Our Work
Who Gets To Vote
Reading and Discussion Program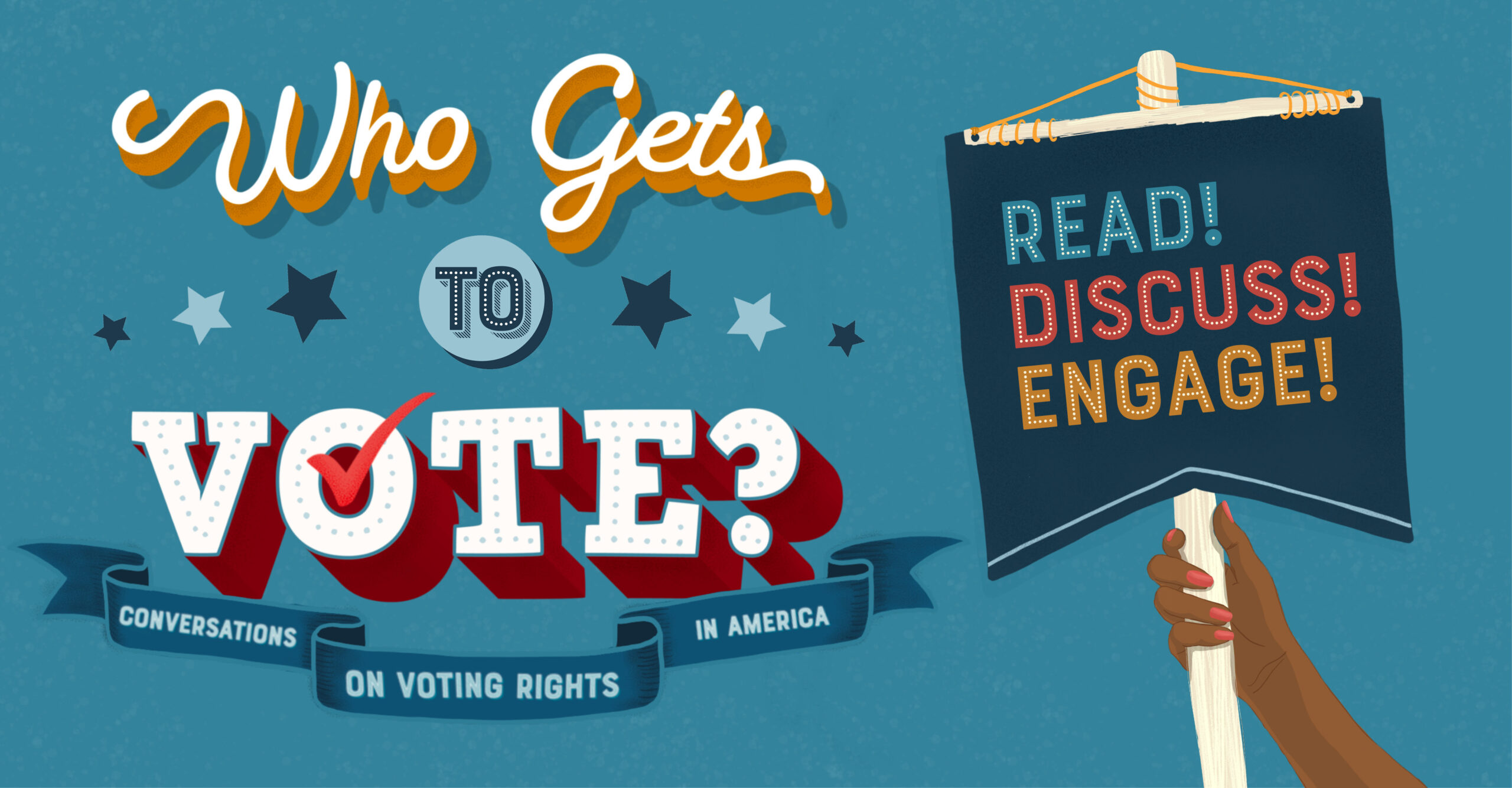 Who Gets to Vote? Conversations on Voting Rights in America is a book club program focused on fostering conversations about the history of voting—and efforts to suppress the vote—in the United States.
Who Gets to Vote? will take place at selected public libraries across Louisiana and is part of the "Why It Matters: Civic and Electoral Participation" initiative administered by the Federation of State Humanities Councils and funded by the Andrew W. Mellon Foundation. All book club sessions will be led by subject specialists and held virtually or, should public health conditions allow, in person.
Schedule of Sites
Dates are subject to change. Programs are run by host sites; for the most current program status, check each individual host's website.
Ascension Parish Library, Gonzales Branch
Tuesdays, March 9–30 | 6 p.m.
To register, call 225-647-3955.

Bossier Parish Libraries History Center
Tuesdays, March 2–23 | 4 p.m.
Register now.
Jefferson Davis Parish Library, Welsh Branch
Thursdays, March 4–25 | 6 p.m.
Register now.
New Orleans Public Library, City Archives, Main Library
Saturdays, March 13–April 3
Register now.
Rapides Parish Library, Martin Luther King Branch
Tuesdays, March 16–April 13
Registration opening soon.
St. Tammany Parish Library
Mondays, February 22–April 9 | 6:30 p.m.
Register now.
Terrebonne Parish Main Library
Mondays, March 8–29
Registration opening soon.
University of Louisiana at Lafayette, Edith Dupré Library
Wednesdays, March 10–31 | 6:30 p.m.
Register now.
Vermilion Parish Library, Abbeville Branch
Wednesdays, March 10–31
Register now.
West Baton Rouge Parish Library
Wednesdays, February 24–April 7
Register now.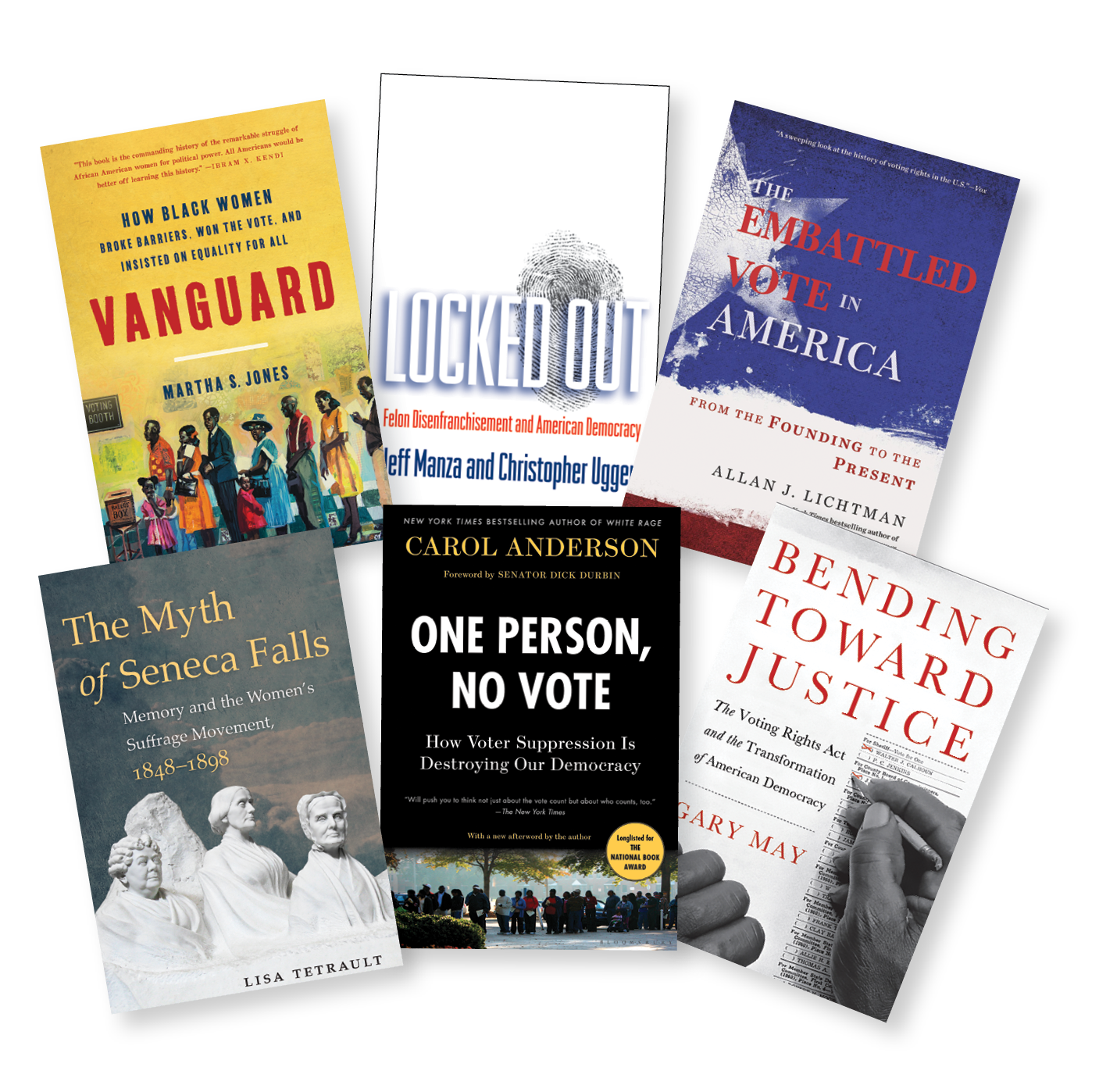 Sessions are intended to spark dialogue around issues and themes supported by the following books:
The Embattled Vote in America: From the Founding To the Present by Allan J. Lichtman (Harvard University Press, 2018)
The Myth of Seneca Falls: Memory and the Women's Suffrage Movement, 1848–1898 by Lisa Tetrault (University of North Carolina Press, 2017)
Vanguard: How Black Women Broke Barriers, Won the Vote, and Insisted On Equality for All by Martha S. Jones (Basic Books, 2020)
Bending Toward Justice: The Voting Rights Act and the Transformation of American Democracy by Gary May (Basic Books, 2013)
One Person, No Vote: How Voter Suppression Is Destroying Our Democracy by Carol Anderson (Bloomsbury, 2018)
Locked Out: Felon Disenfranchisement and American Democracy by Jeff Manza and Christopher Uggen (Oxford University Press, 2006)
Themes that are discussed include, but are not limited to:
the expansion of voting rights since the country's founding
the electoral process
the women's suffrage movement
historic and contemporary voter suppression practices
the Voting Rights Act of 1965
the 2013 Supreme Court decision that invalidated key portions of the Voting Rights Act
the disenfranchisement of incarcerated and formerly incarcerated Americans.