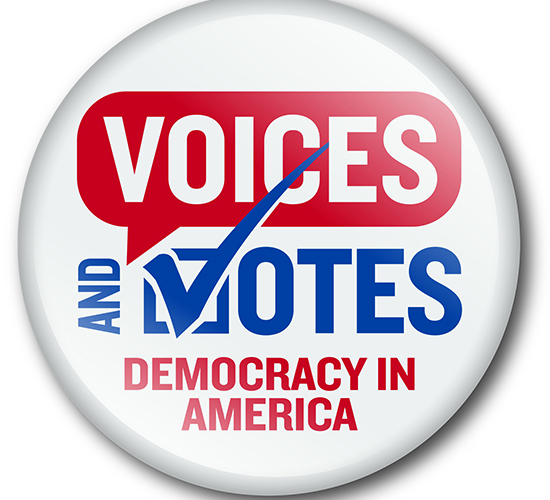 The Smithsonian Institution and the Louisiana Endowment for the Humanities have partnered to bring a tour of the powerful Museum on Main Street exhibition Voices and Votes: Democracy in America to Louisiana in April 2022 for a yearlong tour with stops at six sites, ending in January 2023.
Information about the exhibition can be found below. Applications to host Voices and Votes are now closed.
About the exhibition
When American revolutionaries waged a war for independence they took a leap of faith that sent ripple effects across generations. They embraced a radical idea of establishing a government that entrusted the power of the nation not in a monarchy, but in its citizens.
Voices and Votes is based on a major exhibition currently on display at the Smithsonian's National Museum of American History called American Democracy: A Great Leap of Faith. The traveling Voices and Votes exhibition has many dynamic features, including historical and contemporary photos; educational and archival video; engaging multimedia interactives with short games and additional footage, photos, and information; and historical objects like campaign souvenirs, voter memorabilia, and protest material.
This marks the 10th time that the LEH has partnered with the Smithsonian Institution and Louisiana communities to host a Museum on Main Street tour. Additional information about Voices and Votes is available at museumonmainstreet.org/VoicesVotes.

Voices and Votes in Louisiana
The 2022–23 Voices and Votes: Democracy in America tour in Louisiana is the centerpiece of a statewide initiative by the LEH focusing on civic engagement, and asks Louisiana residents to think critically about questions such as:
Who has the right to vote?
What are the freedoms and responsibilities of citizens?
Whose voices will be heard?
How do you participate as a citizen?
Additional Information
Museums, libraries, community centers, nature centers, and other cultural nonprofit organizations in Louisiana may apply to host the exhibition.
Preference will be given to host sites located in towns of fewer than 20,000 residents.
Final selection is conducted in partnership with the tour scholar and Louisiana Main Street, a division of the state's Department of Culture, Recreation, and Tourism.
Applications to host the exhibition are now closed.
The grant amount is $4,000 per site, and cost share is required.
Site is open at least 5 days a week
Site must offer at minimum 6 free public programs, such as lectures, oral history collection, film screening and discussion, reading and discussion, etc., in conjunction with exhibition
Site can accommodate exhibition measuring 700 square feet, with minimum ceiling height of 8 feet
Site can house 16 shipping crates, requiring 200 square feet, in a clean, temperature-controlled environment
Arrange for shipping of crates in an enclosed 26' U-Haul (or similar) truck
Attendance by two staff members who will serve as the site project director and assistant director for the duration of the project at the LEH/Smithsonian-led content and installation training workshops to be held in fall 2021 and spring 2022 respectively. (Travel to both workshops will be reimbursed by the LEH and is separate from site programming stipends.)
Site must ensure robust community participation through partnerships and publicity
For questions about Voices and Votes: Democracy in America, please contact LEH Public Programs Assistant Clare Shelburne at shelburne@leh.org.